Last yea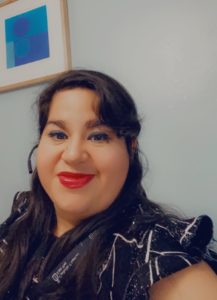 r, Catholic Charities East Bay received more than 12,000 calls for help.
It was an incredible volume, prompted by the pandemic and a growing need for housing assistance, emergency food and counseling services.
Lila Lopez Vaquero, an Administrative Coordinator in our Concord office, handled many of these calls, listening to people's stories and figuring out if they were eligible to receive our services. With as many as 40 calls coming into each office per day, the job is stressful, but Lila handles it with patience and poise.
"As an administrative coordinator, I'm the first point of contact people have with our agency and the gateway to people who need a helping hand," says Lila. "It can be so painful to hear people's stories, especially when they feel like the system has failed them, but I also get to help them, so it's very fulfilling. I get to be a little piece of the puzzle because it definitely takes a village to help someone."
Lila joined Catholic Charities in 2019 and says she enjoys getting to know clients and ushering them toward the services they need. And it's especially rewarding when she reconnects with them after they have received help.
"It's nice to see someone get over their crisis and succeeding in life," says Lila. "If we wouldn't be here, who would look out for people in their time of need?"