FOR IMMEDIATE RELEASE
DATE: June 15, 2017
CONTACT:  Mary Kuhn, Communication Director
mkuhn@cceb.org 510-469-1315
Oakland, California
Catholic Charities of the East Bay Achieves National Accreditation
Achievement caps effort that began in April 2015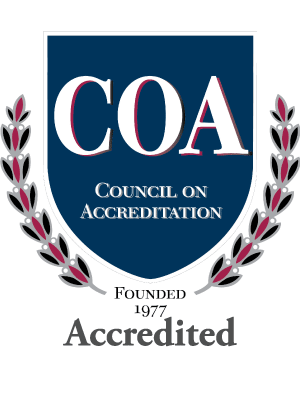 Catholic Charities of the East Bay has achieved national accreditation through the New York-based Council on Accreditation (COA). Catholic Charities works with youth, children, and families to promote resilience, strengthen families, and pursue safety and justice.  Our programs include refugee resettlement; immigration legal services; school and community-based behavioral health programs that improve educational outcomes; grief counseling and case management services to families and friends of homicide victims and victims of crime; literacy programs that promote self-sufficiency; and rental assistance for families facing eviction. Catholic Charities began preparing for accreditation two years ago, in April 2015. Organizations pursue accreditation to demonstrate the implementation of best practice standards in the field of human services. COA evaluated all aspects of Catholic Charities' programs, services, management, and administration.
COA accreditation is an objective, independent, and reliable validation of an agency's performance. The COA accreditation process involves a detailed review and analysis of an organization's administration, management, and service delivery functions against international standards of best practice. The standards driving accreditation ensure that services are well-coordinated, culturally competent, evidence-based, outcomes-oriented, and provided by a skilled and supported workforce. COA accreditation demonstrates accountability in the management of resources, sets standardized best practice thresholds for service and administration, and increases organizational capacity and accountability by creating a framework for ongoing quality improvement.
To achieve COA accreditation, Catholic Charities first provided written evidence of compliance with the COA standards. Thereafter, a group of specially trained volunteer Peer Reviewers confirmed adherence to these standards during a series of on-site interviews with trustees, staff and clients.
Based on their findings, COA's volunteer-based Accreditation Commission voted that Catholic Charities of the East Bay had successfully met the criteria for accreditation.
An endorsement of COA and the value of its accreditation process is reflected in it being the only national accreditor designated by the U.S. Department of Defense to develop accreditation standards and processes for human service programs provided to military personnel and their families.
Founded in 1977, COA is an independent, not-for-profit accreditor of the full continuum of community-based behavioral health care and social service organizations in the United States and Canada. Over 2,000 organizations — voluntary, public, and proprietary; local and statewide; large and small — have either successfully achieved COA accreditation or are currently engaged in the process. Presently, COA has a total of 47 service standards that are applicable to over 125 different types of programs. To learn more about COA, please visit www.COAnet.org.
Since 1935, Catholic Charities of the East Bay has provided hope and healing to the vulnerable through compassionate services that transform lives. Ever responsive to evolving social needs, our services have progressed through the decades and reflect the diversity of our community. We are a 501(c)(3) non-profit and serve and work in partnership with all, including those of any background, race, ethnicity, gender identity, sexual orientation, and religious or spiritual affiliation or belief.
Catholic Charities of the East Bay was recognized by Congress for its response to Hurricane Katrina, offering housing and employment services to people displaced by the disaster.