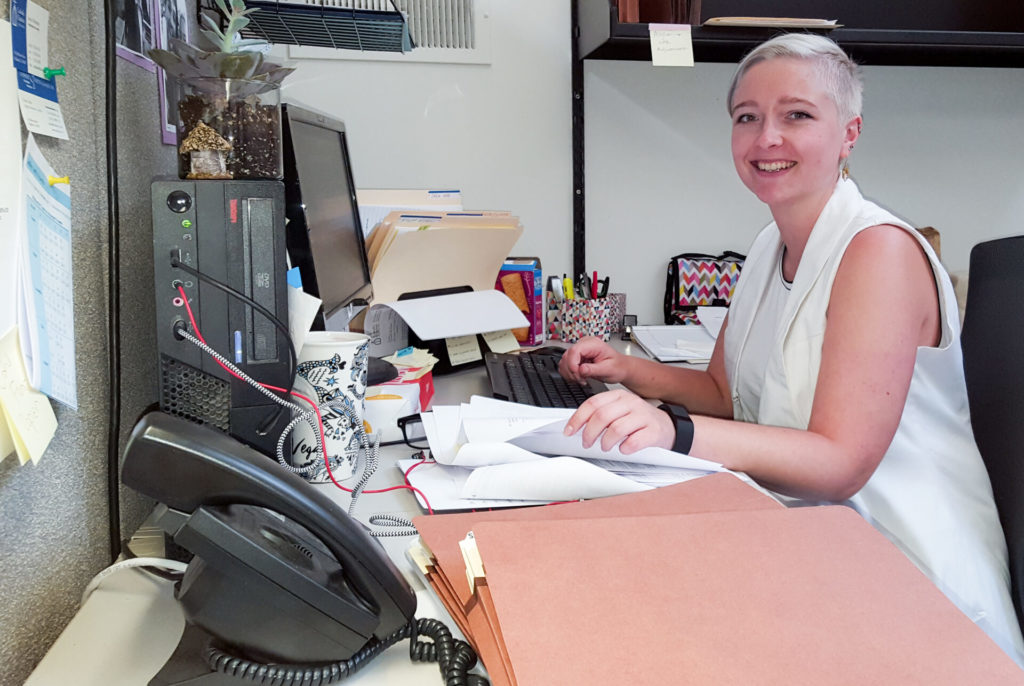 Ari Jones an intern law clerk with Legal Immigration Services at Catholic Charities of the East Bay, works daily on cases for clients seeking a better life in the United States. About to start her second year at UC Berkeley School of Law, she is wrapping up her work helping the last of her clients.
"I feel like I am making direct impact with my work," Ari said. "Going into law school a lot of the work is theoretical so I'll be missing that client connection, missing that feeling the work I am doing is helping people."
Ari came to Catholic Charities of the East Bay as a summer intern because of our reputation for being on the front lines of the immigration issue.
"I have been interested in immigration law for a really long time," Ari said. "Catholic Charities has one of the best direct services programs, which means they are actually doing hands on work with the community providing forms of immigration relief."
Growing up in Redwood City Ari had friends who were undocumented, not a topic they talked about openly but which became more apparent as they grew up and moved on to college.
This connection to the undocumented community led Ari to be an advocate for the rights of undocumented people.
"They are just like you or me only they are living in the most intense fear of being deported or being discriminated against," Ari said. "I have always wanted to help people in this area (of law). I think the (immigration) system is broken but there is still really great things we can do within it."
The Legal Immigration Services team works hard to help immigrants as a part of the "Welcoming the Stranger" initiative. Clients can make an appointment to receive low-cost immigration services from Board of Immigration Appeals accredited representatives and licensed immigration attorneys. Working with clients from around the world often times means working with language and customs differences. Ari has helped many people apply for and receive asylum, waivers, DACA and U-visas.
"I think it can be really scary for people who live their whole lives or their time in the U.S. just being afraid to reach out… even for something that is free or telling them it's a secure way to get help," Ari said. "We always emphasize confidentiality and we will not make a decision, file an application or tell anyone your information without their permission."
While most cases take a long time Ari keeps clients informed and up to date on their cases.
"I think it can be hard while you are working to see the finish line. But every step feels like a big success." Ari said. "It's a lot of hard work and it is hard to think about everything that our clients have been through. But we know every piece of paper we submit, every draft that we write is one step closer to getting them security and fostering self-sufficiency."