February has been challenging. Our jobs in nonprofits are hard enough – balancing client needs and sustainable funding, guiding staff, and inspiring others while complying and innovating with precious resources.Now add to that the confusion and conflict with a new administration whose words and actions are harming the very people we serve – the poor, vulnerable, immigrants, refugees, and even our staff.
How does one lead in these trying times?
For one, we continue to advocate for policies that protect and support the vulnerable and stand in solidarity when our clients are threatened. We must also resist the urge to lash back, to name call, and to obsess by thinking that the other is the enemy.
We must also believe in our values. Instead of fear and bitterness, our words and actions must be guided by love of our neighbor, the common good, compassion, kindness and respect, and belief in the life and dignity of every human being. This includes praying for the new administration so they see beyond their current view to a place of hope, mercy, and inclusion.
Catholic Social Teaching was made for these difficult times. We fight for mercy and human dignity, we resist policies and practices that harm our clients and others, and we do this with courage and diligence. After all, I believe this is God's way to transform the world.
Mission Moment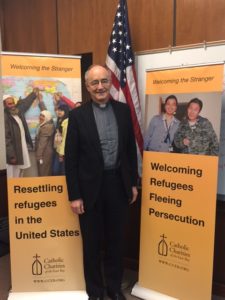 This month, we had a special visitor to Catholic Charities. He is Father Michael Czerny, S.J. from the Vatican. Fr. Michael is the Under-Secretary, Migrants & Refugees Section in the new Vatican Integral Human Development Department. Pope Francis appointed Fr. Michael as his direct collaborator in all matters concerning refugees, migrants, and human trafficking.
Fr. Michael said that the department, which works directly under the Pope, is addressing what has become "one of the most important and urgent human phenomena of our times – the movement of people across the globe." He said that "the role of the Section is to accompany people on the move from war zones, poverty, economically depressed areas and ethnic zones as well as addressing xenophobia that is spreading in many countries."
Fr. Michael, who was born in the former Czechoslovakia and raised in Canada, was down to earth, unassuming, humble, and always had a warm smile on his face. He attended our monthly Transforming Lives Tour to learn more about what we do. After watching the two-minute video on Claire's House, our home in development for young girls trafficked for sex, he asked for a copy of the video to show the Most Holy Father.
He also attended a convening of Immigration and Refugee Resettlement service providers in Alameda and Contra Costa Counties held in our Oakland office. Fr. Michael listened for the full two hours to learn what is happening in our communities and offered spiritual encouragement.
After a long day with us, Fr. Michael left quietly, walking up the street to catch BART. We were humbled by his gracious presence, his sincerity, and his warmth. Staff are often a reflection of their leader. It's safe to say, Fr. Michael is a reflection of his boss, Pope Francis.
Until next month,
Chuck Fernandez
CEO Catholic Charities of the East Bay