Catholic Charities' Legal Services
Recent federal action to detain and separate families at the southern border has created a humanitarian crisis that has torn families apart and is still harming the most vulnerable – children, including newborns and toddlers. This immoral action is counter to our faith, our values, and our commitment to keeping families safely together, which is a cornerstone of society and human dignity.
Catholic Charities of the East Bay has provided qualified legal services to people seeking legal status in the United States for decades. Since 2014, Catholic Charities of the East Bay has helped hundreds of unaccompanied minors. While continuing to provide legal services in the East Bay, we will also be sending small groups from our legal team to assist where needed at the borders. We recognize that a sustained effort of legal assistance over the long term is required to address the situation created by family separation.
Your donation will help support providing legal assistance to families affected by separation at the border. Please indicate "Keeping Families Together" when making your donation.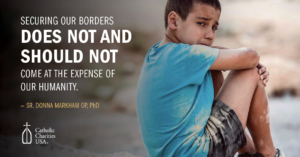 We know the stories of persecution, violence, and oppression that drive people – including children – from their homelands seeking safe haven in the United States.  In accordance with our faith and our commitment to the dignity of the human person, Catholic Charities will continue to seek justice for immigrants, refugees and migrants.
Quoting Pope Francis, Bishop Michael Barber of the Oakland Diocese said, "A person's dignity does not depend on them being a citizen, a migrant, or a refugee. Saving the life of someone fleeing war and poverty is an act of humanity.
"I stand with my brother bishops in supporting and praying for the families suffering at the U.S.-Mexico border," Bishop Barber explained.