Experience Hope Newsletter December 2017
The holidays are here, and we are offering 24 ways for us to support one another during the season. Now, is also a natural time to reflect on the year past and look forward to a productive year ahead.
2017 has been a hard year, filled with natural disasters and man-made tragedies.  Despite this, or perhaps in spite of this, we reflect back on a year filled also with blessings, joy, and hope.
Catholic Charities Mental Health team continues to grow to meet the needs of our community while maintaining our focus on serving those who have been hurt by violence and oppression. We added a new school to our Experience Hope clinical services, which will be a demonstration site for evaluating the effectiveness of integrating restorative practices into more traditional mental health services.
We expanded our family stabilization and preservation program to serve families with youth who are at high risk of commercial sexual exploitation. We served the loved ones of Oakland's homicide victims and are recruiting two more mental health clinicians to increase our ability to respond to the ongoing need. We deepened the impact of our Training Institute, developing new training curricula in bystander intervention, fostering resiliency to prevent staff burnout, as well as delivering tried and true training in restorative practices and Adult and Youth Mental Health First Aid.
Looking forward, we hope to focus on strengthening our services, adding new staff to existing programs and expanding into unserved areas. We hope to listen with humility and gratitude to those we serve and develop new programs and services to meet the ever-changing needs that surround us. And, above all, we will hold on to our hope, joy, and blessings and continue to act for peace and justice for all.
Experience Hope Upcoming Trainings:
Check out our revamped webpage for up-to-date Mental Health First Aid information and training dates:
Youth Mental Health First Aid training is a nationally certified training focused on learning the signs, symptoms, and supports for youth with mental health struggles. In addition to building knowledge, we hope to decrease the stigma surrounding mental health issues in our communities. Click here to register!
Youth Mental Health Training Dates: Unless noted, all are held at Catholic Charities of the East Bay – Richmond Service Center, 217 Harbour Way, Richmond, Calif. 94801
January 18th, 2018 (Thursday from 9am-5pm)
March 15th & 16th, 2018 (Thursday and Friday from 9am-1:30pm)
April 26th & 27th, 2018 (Thursday and Friday from 9am-1:30pm)
Adult Mental Health First Aid teaches signs and symptoms of mental health issues and offers a simple (but not always easy) action plan for supporting people in our lives who might be experiencing a mental health issue. Register online today!
Adult Mental Health First Aid Training Dates:
January 11th & 12th, 2018 Richmond-based training (Thursday & Friday from 9am-1:30pm) (must attend both dates)
February 1 & 2, 2018 Oakland-based training (Thursday & Friday from 9am-1:30pm) (must attend both dates)
March 1 & 2, 2018 Richmond-based training (Thursday & Friday from 9am-1:30pm) (must attend both dates)
Cost: FREE (thanks to generous funding from the Providence-St. Joseph Health Foundation). Want an onsite training for your team? Please email fwills@cceb.org for more information.
In the News:
Next year, Catholic Charities of the East Bay will open a home for young women who've survived sex trafficking.  Here's recent media coverage:
The Catholic Voice published an article, "Sponsoring Refugee Families, Second Time Around," mentioning Catholic Charities of the East Bay's continued assistance and support.
"Wilcox Named Chancellor for Diocese of Oakland," also from the Catholic Voice, announced Stephen Wilcox's new appointment and described his long-time involvement with Catholic Charities of the East Bay.
As a reminder, Catholic Charities helps people by providing immigration legal services, refugee resettlement, mental health services, one-time help with rent and deposits in an emergency, and English as a Second language literacy programs.
Holidays can be stressful, increasing rates of domestic violence, mental health crises, and substance abuse relapses, among other negative outcomes.  We hope our training courses and these 24 other resources help us all support, comfort and protect one another as we move forward.
Do You Know about these 24 Resources for the Holidays...?
To Empower Survivors of Domestic Violence: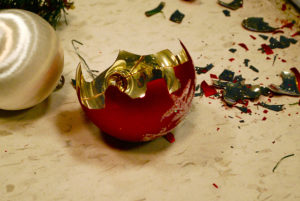 "Domestic Violence and the Holidays," is an advice guide for service providers from the National Resource Center on Domestic Violence. The "Providing Support during the Holidays" section begins on page 2, after a list of domestic violence statistics.
Entering a zip code in the Domestic Shelters online directory produces a list of local organizations and shelters that provide a safe haven for domestic violence survivors.
The Administration for Children and Families' blog post, "What are the Red Flags of Domestic Violence," alerts service providers, clinicians, healthcare workers, family, friends and other advocates to the signs that someone is being abused.
"Witnessing Violence Can Change a Kid's Mind – You Can Help Them Heal" is a comprehensive U.S. Department of Justice resource for supporting children exposed to violence-related trauma.
Love is Respect is a nonprofit dedicated to helping young people prevent and end abusive relationships. (Clicking on the website triggers a safety message to readers who fear their abusers are monitoring internet usage.)
Among the site's articles are "Abused and Being Undocumented" and "My Family Member is Abusing their Partner. What Do I Do?"
Eight Holiday Tips from a Domestic Violence Survivor shares advice on finding joy despite the pain of past holiday seasons.
To Help People Facing Substance Abuse and Mental Illness Challenges: 
During the holidays, it can be particularly hard to maintain sobriety.  For party hosts, SAMHSA offers the free, downloadable, "Party Planning Tips for an Alcohol-Safe and Drug-Free Holiday Season."
For party goers in recovery, the Hazelden Betty Ford Center shares these Tips for Enjoying Sober Holidays and the organization Every Day Health offers "10 Ways to Avoid Holiday Addiction Relapses."
Psychology Today published "Holiday Stress: How to Manage It," and "Managing Stress during the Holidays: Physician Heal Thyself," the latter for healthcare professionals.
An article in the magazine The Atlantic, "The Holiday Spike in Domestic Violence", is an in-depth look domestic violence during this time of year.
To Support Children and Families:
Holidays can be especially stressful for someone already grieving the loss of a loved one.  The National Child Traumatic Stress Network (NCTSN) offers a long list of "Holiday Stress" resources related to grieving.  Scroll up to the top of the page after clicking the link.
The California Mental Health Authority and Each Mind Matters have compiled advice in "Ask the Experts:  Anxiety in Children during the Holidays."
Having to endure being bullied is that much harder during holiday breaks, when educators aren't around to intervene.  "Bullying during the Holidays" offers children ways to cope when being challenged during this time of year.
The American Psychological Association provides these "Tips for Parents on Managing Holiday Stress."
To Support People who are Homeless: 
 Service providers who work with the homeless can find help in the article, "Recognizing Holiday Triggers of Trauma," provided by the Substance Abuse and Mental Health Services Administration (SAMHSA).
SAMHSA also offers "TIP 55: Behavioral Health Services for People Who Are Homeless," an in-depth guide for providing effective assistance to individuals living with substance abuse and mental health issues.
To Care for Yourself:
Mental Health First Aid provides the curriculum for many Catholic Charities of the East Bay trainings. Here's the organization's "Snowman" advice to help with self-care.
More suggestions can be found on its website: "During the Holidays, Remember it's not Selfish to Take Time for Yourself" and "Holiday Self Care from the Mental Health First Aid Community"
Toolkit of the Month:
Domestic Violence Toolkit for Mental Health Professionals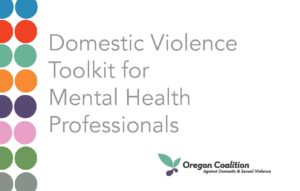 To Help Those Who Work with Domestic Violence Survivors:
The toolkit offers a comprehensive resource for service providers.  Though not geared specifically for the holidays, the information is relevant all year long.  Included are sections on, types of abuse, indicators, screening and risk assessment, supporting survivors, and safety planning.
A publication of the Oregon Coalition Against Domestic and Sexual Violence, the 28-page document provides a link to resources only in that state.  The Domestic Shelters online directory, however, produces a list of local organizations and shelters nationwide, accessible by zip code.