MISSION MOMENT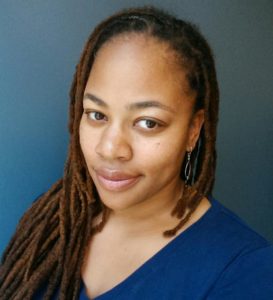 Leah Kimble-Price, LMFT is our new Director for Claire's House. We are all very excited that Leah has joined our team. She brings so much knowledge, experience, and passion for the girls.
Leah is a licensed Marriage & Family Therapist, a 3rd generation Oaklander, and a community healer. For the past ten years, she has worked as a psychotherapist and clinician in community mental health. She has experience in screening and assessment of children as they entered the child welfare and juvenile justice systems; worked with law enforcement on safety and placement issues for trafficked youth; supervised clinicians and staff on treatment plans and behavioral interventions for children ages 3-21; and educates on issues of cultural humility, bias in mandated reporting, and techniques for social justice parenting. In short, Leah is very qualified for her new role.
Her passion is fostering mental emancipation within communities of color and other marginalized groups. Because of that and her rich experience and knowledge, she is an excellent complement to the vision and legacy of Claire's House.
She has also created strong partnership over the years in the Oakland area with other service providers for CSEC youth such as MISSSEY,
DreamCatcher, Covenant House, HEAT Watch, Love Never Fails, Regina's Door, Ruby's Place, UCSF Benioff Children's Hospital, West Coast Children's Clinic, and much more.
As we embark on being a leader in eliminating the Commercial Sexual Exploitation of Children (CSEC) and human trafficking in our communities and across the nation, we are extremely delighted to have Leah join Catholic Charities of the East Bay. Welcome Leah!