Every January we start creating our budget for the fiscal year beginning May 1. It's a complicated process, thus our early start.
Coming from a secular corporate world, I was not familiar with the word "stewardship". I now know it's often used in faith-based organizations and "is the activity or job of protecting and being responsible for something."
As we go through our budget process, one of the most important assets to steward is our mission – Rooted in compassion and human dignity for all, Catholic Charities of the East Bay works with youth, children, and families to promote self sufficiency, strengthen families and pursue safety and justice.
STEWARDSHIP
Why is this important? Because mission creep is easy. There are many causes to address and each of us – staff, board, donors, and the community – may want to pull in different directions. Instead of chasing everything, our focus is on how to better perform our mission; how to better invest in the people carrying out the mission; how to improve systems to become more efficient in carrying out our mission.
A financial return lets us and our donors know their contributions are used wisely. We must also have a Mission Return so we know we're having an impact. How does Choice A compare in Mission Return to Choice B? Our budget process helps us answer those questions.
Some decisions may not make complete sense financially but do make sense when viewed through the lens of faith and our mission. Those decisions, whatever they may be, are never taken lightly and instead are made with much prayer, thought, and in the best interest of our mission.
MISSION MOMENT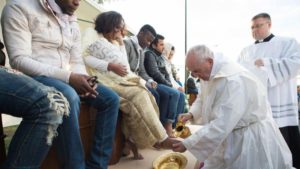 In his New Year's homily, Pope Francis talked about the silent majority in Rome, the people who serve their communities not through noisy words but with quiet deeds. He said he felt "sympathy and gratitude for all those persons who, every day, contribute with small but precious gestures to the common good and who seek to do their duty as well as possible." He called them "artisans of the common good."
Our legal immigration staff in the Concord office are artisans of the common good – Ingrid, Joseline, Rachel, Mariela, and Edna. They do their work without fanfare and with passion. They care and go above and beyond in carrying out their responsibilities.
This month, a family came to the office seeking help to renew their son's DACA (Deferred Action for Childhood Arrivals) application. The mom was eight months pregnant. One staffer – having just had a baby – knew the anxiety behind preparing for the newborn. The family was short on money and was paying for DACA renewal instead of buying baby items. The team told the family that Catholic Charities would pay for the renewal. Later, Ingrid shared the need with her neighbors who collected items for the baby – including diapers, a crib, wipes, bedding, clothes, stroller, and a car seat.
In another instance, the team, after much research, discovered that a young man seeking a DACA renewal was eligible to petition for permanent residency. A former client, hearing of the story, agreed to cover the cost for residency – $3,000.
In another instance, the legal team discovered that a family was living in a garage with little furniture and no beds. Edna reached out to her neighbors and was able to get warm clothes, bedding, and things to make their life more comfortable.
Community members are hearing about the work the legal team does and often walk into the Concord office to donate cash, time, and goods to help those in need.
The legal team, the neighbors, and the generous former client are all rising above the noise and disruption we hear every day in the news; their quiet deeds are helping those in need. They would make Pope Francis and all of us proud. They are artisans of the common good.
Until next month,
Chuck Fernandez
CEO Catholic Charities of the East Bay