The most important responsibility of a leader is to hire the right people. It's also the most difficult. We'll be hiring staff for our projects with Chevron Corporation, for Claire's House, and for our immigration program. I've made plenty of hiring mistakes in the past – rushing to fill a position, not the right experience, or hiring someone I intuitively liked. In his book "Axiom," Pastor Bill Hybels, one of my favorite authors, encouraged his staff to hire only the best, the brightest, and the most accomplished. He called them "tens." He said tens will typically hire tens, resulting in a strong and deep team. He said fours or fives will never be able to attract or lead tens.
With tens, motivating or managing is never an issue. They are already motivated and have the drive to produce the best results and be part of creating something great.
Character is vital. Having the right work ethic, judgment, morals, and values are often more important than specific industry experience or education.
People are not your most important asset. The right people are. When Jesus was building his team of twelve, he wasn't concerned with industry experience, background checks, or personal grooming habits. His twelve direct reports had heart and character. Together and with God, they changed the world.
Our staff are the best, the brightest, and the most accomplished. As we add to our team, we will continue to add tens so that we too at Catholic Charities can change the world.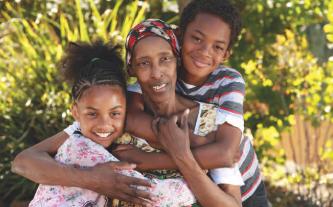 Lately a lot of attention has been on our refugee resettlement, school-based mental health, and Claire's House programs. We've not talked much about an equally important program that saves lives – Critical Family Needs.
Critical Family Needs provides back rent, rental deposits, and utility assistance. One must qualify – age 55 or older, or disabled, or living with any children under the age of 18 – and must live in certain cities.
Last year we had 7,253 requests for rental assistance, a 70% increase from the prior year. Sadly, we could only help 205 people. The average assistance was $1,433. Sixty percent of the people we helped remained stably housed after six months.
With today's skyrocketing cost of living in the East Bay, the working poor barely earning enough to live on. One unexpected event – an illness, a loss of job, or a broken car – can send things spiraling out of control.
The two quiet heroes of Critical Family Needs are staff Delia Ledezma and Dora Segura.
Delia and Dora listen every day to stories from clients desperately needing help, and they do it with love, patience, and professionalism. The single mother who fell behind in her rent because of three strokes, a client who was exposed at an early age to watching her mother get mercilessly beaten by her father, or the child sexually abused by her father, brother, and uncle and who served time in prison for killing her last exploiter. In her words after being helped by our staff heroes – "for the first time I felt I mattered thanks to the case managers who treated me with such respect."
Pope Francis has asked all of us not to treat people who ask for help as mere cases, but instead to get into the messiness and complications of their lives. He said, "Mercy gets its hands dirty." Delia and Dora get their hands dirty every day with the mercy they show to those they serve.
Thank you Delia and Dora for all you do to give people their dignity and hope.
Until next month,
Chuck Fernandez
CEO Catholic Charities of the East Bay